// thay = width tương ứng // thay = height tương ứng
Top 20 Healthy Salad Toppings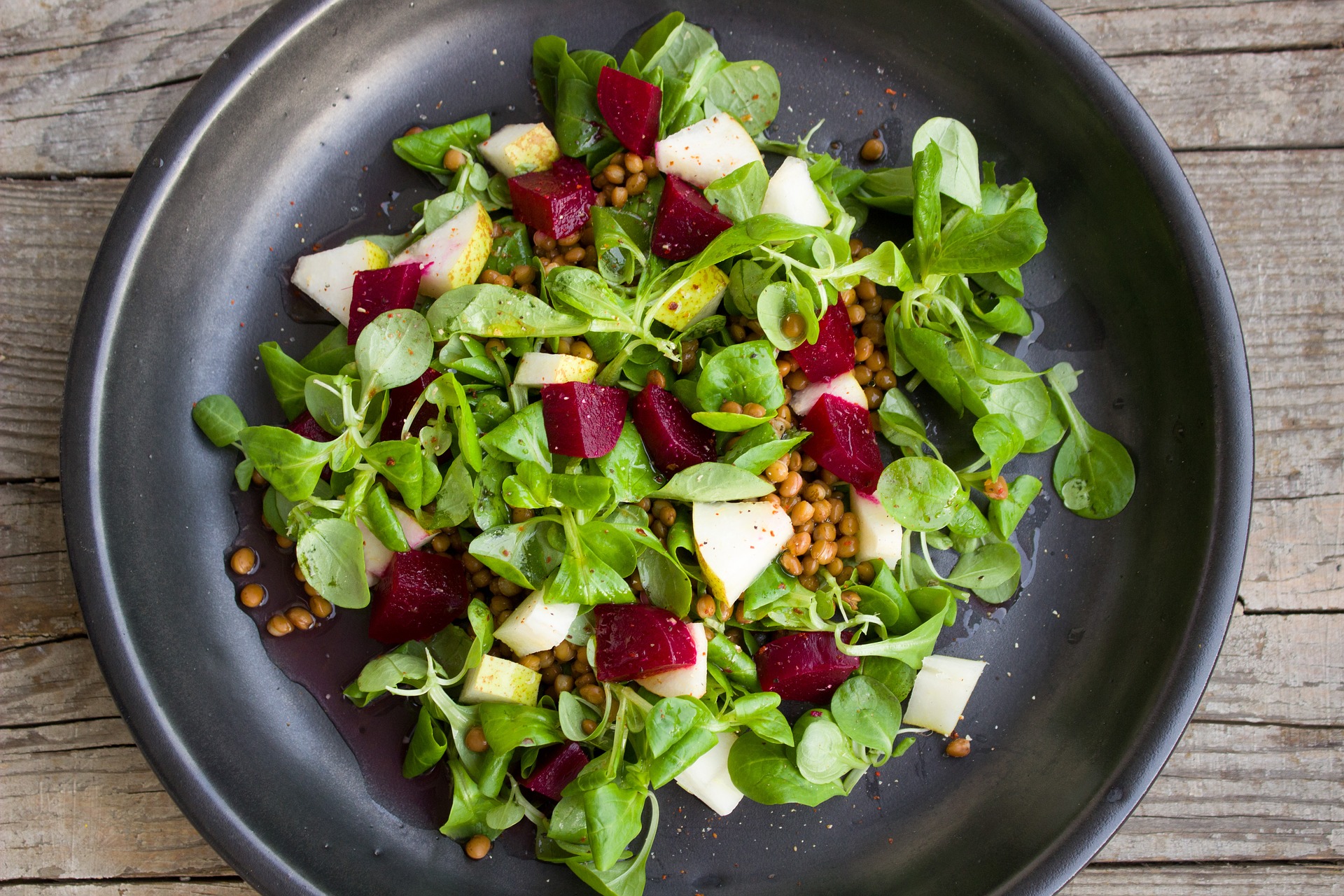 1. Chopped Raw Vegetables
A typical salad starts with raw greens, such as lettuce, spinach, kale, mixed greens or arugula. However, you can also add several other raw vegetables.
Some popular raw veggie toppings include chopped carrots, onions, cucumbers, celery, mushrooms and broccoli. These vegetables are packed with fiber and plant compounds that offer health benefits.
One study in 422 young adults found that eating raw vegetables — including carrots, lettuce, spinach and cucumber — was associated with good mental health and mood (1Trusted Source).
2. Nuts and Seeds
Nuts and seeds — such as pistachios, walnuts, pumpkin seeds, almonds, peanuts and chia seeds — are highly nutritious salad toppings.
For example, 1 ounce (28 grams) of pumpkin seeds has 5 grams of protein and close to 20% of the Daily Value (DV) for zinc. Even more, adding just 22 almonds (1 ounce or 28 grams) to a salad packs over 3 grams of fiber and several vitamins and minerals.
When choosing nuts or seeds to add to your salad, look for raw or dry-roasted varieties without added salt, sugar or preservatives.
3. Dried Fruit
Salads and dried fruit are a delicious combination.
Using dried cranberries, apricots, mango or raisins as a salad topping is an easy way to add some sweetness along with various nutrients. For instance, 1 ounce (28 grams) of dried apricots has 20% of the DV for vitamin A and 2 grams of fiber.
To avoid added sugars and preservatives, look for dried fruits that only have the fruit listed as an ingredient. Additionally, use this tasty treat sparingly to top off your salad.
You can also make your own by slicing your favorite fruit into thin pieces and baking them on a lined baking sheet at 250°F (121°C) for two to three hours.
4. Whole Grains
Some popular whole grains to use as salad toppings include cooked brown rice, quinoa, farro and barley. These grains add texture and flavor to your salad.
Whole grains also provide fiber and protein that can help you feel full and satisfied after meals. For example, 1 cup (195 grams) of brown rice has 5 grams of protein and more than 3 grams of fiber.
Even more, research links whole grain consumption to a variety of health benefits — including weight loss and lower cholesterol levels (2Trusted Source).
Cooked whole grains are available at most grocery stores. To prepare your own, combine uncooked grains with water in a 1-to-2 ratio in a pot over the stove — for example, use 1 cup of grains with 2 cups of water. Bring to a boil, then simmer until the grains are tender.
5. Beans and Legumes
Beans and legumes are excellent sources of plant protein to add to your salad.
A 1-cup (172-gram) serving of both cooked black beans and kidney beans provides over 15 grams of protein in addition to vitamins, minerals and fiber.
You can use canned beans or prepare them yourself. To cook your own, put dried beans in a large pot and cover them with an inch of water. Bring to a boil and then let them simmer for one to three hours or until they are tender.
6. Fresh Fruit
Even though salads are typically thought of as a combination of vegetables, fresh fruit can be a delicious salad topping with added health benefits.
One study in more than 800 adults found that each piece of fruit consumed per day was associated with a 10% reduction in heart disease risk (3Trusted Source).
Popular fresh fruits to add to your salad include berries, apples, oranges and cherries. You can also use blended fruit or freshly squeezed fruit juice for homemade salad dressings.
7. Baked Tortilla or Pita Chips
Crushed tortilla chips or pita chips add a crunchy texture and delicious taste to your salad.
Tortilla chips are a great addition to Tex-Mex salads that include beans, salsa, avocado and shredded cheese. On the other hand, pita chips are a good complement to salads with Mediterranean flavors.
The most nutritious options are baked corn tortilla or whole-grain pita chips that are low in sodium and added sugar. A serving of packaged whole-wheat pita chips — 11 chips or about 28 grams — has approximately 3 grams of fiber and 4 grams of protein (4).
To prepare homemade baked chips, slice a few tortillas or pitas into six triangles, brush each triangle with olive oil and bake for 10–15 minutes at 350°F (176°C).
8. Shredded Hard Cheeses
Using shredded hard cheeses — including cheddar, gouda, parmesan and manchego — as a salad topping adds flavor and nutrition.
One ounce (28 grams) of shredded parmesan cheese has over 10 grams of protein for just over 100 calories. It also packs 35% of the DV for calcium — an important nutrient for bone health, blood clotting and proper muscle contraction (5Trusted Source).
Packaged shredded cheeses, as well as blocks of hard cheese that can be shredded with a hand grater, are widely available.
9. Roasted Vegetables
Roasted vegetables are a delicious complement to raw salad greens.
Depending on the vegetable, roasting brings out different flavors and textures. Research also suggests that cooking vegetables makes them easier to digest and improves the absorption of some nutrients (6, 7Trusted Source).
To make roasted vegetables, dice your chosen veggies, toss them in olive oil and seasonings and bake them on a lined baking sheet for 30–40 minutes at 350°F (176°C).
You can also use leftover roasted veggies from a previous meal as a salad topping.
10. Hard-Boiled Eggs
Eggs can be a highly nutritious addition to your salad.
One large egg provides 6 grams of protein and more than 15 vitamins and minerals for only 77 calories.
Their protein content can help you feel more full. One study in 30 overweight or obese women found that those who ate eggs at a meal consumed significantly fewer calories during the next 36 hours compared to those who ate bagels (8Trusted Source).
To make hard-boiled eggs, place the eggs in a saucepan and cover them with an inch (2.5 cm) of water. Bring to a boil for approximately 10 minutes, remove from heat and transfer the eggs to a bowl with cool water for five minutes before peeling.
11. Fresh Herbs
Herbs are the leaves, seeds or flowers of plants that can add flavor or fragrance to your dishes.
Popular fresh herbs to add to salads or salad dressings include basil, mint, rosemary, parsley, sage and cilantro.
Herbs not only add flavor but may also provide various health benefits.
For example, research shows that a compound in rosemary and sage may have anticancer properties, while cilantro may help fight inflammation (9Trusted Source, 10Trusted Source).
12. Leftover Meat
Leftover meats — such as baked or grilled chicken, pork or beef — can be repurposed as salad toppings.
Meats are loaded with vitamins and minerals, as well as high-quality protein that can help you feel full and satisfied (11Trusted Source).
For example, 3 ounces (84 grams) of baked chicken breast has 26 grams of protein for less than 140 calories.
Pre-cooked meats are available at grocery stores for convenient, quick salad toppings, but be aware that they may contain additional and potentially unhealthy ingredients.
You can also prepare your own by cooking meats in a skillet, on the grill or in your oven with olive oil and seasonings at 350°F (176°C) until they reach a safe internal temperature.
13. Seafood
Adding seafood to your salad can boost its nutrition and flavor.
Salmon, cod, halibut, shrimp, lobster and even sardines are incredibly healthy sources of protein, omega-3 fatty acids, vitamins and minerals. Studies show that eating fish can boost heart health and brain function (12Trusted Source, 13Trusted Source).
The most nutritious ways to prepare seafood for salads are baking, broiling or grilling. Deep-fried or breaded seafood with added oils and salt are not as healthy.
To prepare fish at home, brush the fillets with olive oil and seasonings and bake in a lined dish for 15–20 minutes at 400°F (204°C).
14. Avocados
Avocados are a versatile food and a great addition to salads.
They're loaded with nutrients that can improve heart health and support healthy aging, such as monounsaturated fat, fiber, potassium, vitamin C, vitamin K and folate (14Trusted Source).
In fact, one avocado provides over 50% of the DV for vitamin K and 41% of the DV for folate.
You can add sliced avocado to almost any salad or use guacamole as a topping. To make guacamole, mash avocado with onion, garlic and lime juice. Optionally, add some fresh cilantro for an extra zing.
15. Soft Cheeses
Soft cheeses, including fresh mozzarella, feta, ricotta, goat, bleu and burrata, make excellent salad toppings.
They provide a creamy texture and delicious flavor, along with protein, calcium and other micronutrients. What's more, soft goat and feta cheeses made from goat's or sheep's milk are lactose-free and good options for those who cannot tolerate cow's milk (15, 16, 17Trusted Source).
Soft cheeses are widely available at grocery stores and specialty markets. When searching for mozzarella, burrata or feta cheeses, look for those packed in brine that inhibits bacterial growth and maintains the creamy texture.
16. Pomegranate Arils
The red seeds of pomegranates — known as arils — make for a decorative and nutritious salad topping.
They not only make for a pretty salad but may also provide impressive health benefits. Studies have found that pomegranate arils are rich in compounds called anthocyanins that can have antioxidant properties (18, 19).
Packaged pomegranate arils are available at most grocery stores. To get arils out of a whole pomegranate, slice off the top, use a knife to make a few evenly spaced scores on the sides of the fruit and then crack it open with your hands.
17. Corn and Salsa
Using corn and salsa as a salad topping is an easy way to create a flavorful and nutritious Tex-Mex salad.
A 1/2-cup (128-gram) serving of corn kernels has over 9% of the DV for fiber and is rich in vitamin C and folate. What's more, research suggests that eating tomato-based products like salsa that contain lycopene may help prevent heart disease and cancer (20Trusted Source, 21Trusted Source).
When shopping for corn and salsa, look for varieties that contain mostly whole-food ingredients. You can also make homemade salsa with diced tomatoes, peppers, onions, cilantro and seasonings.
18. Tofu and Edamame
Tofu and soybeans, known as edamame, are excellent sources of plant protein to add to your salad.
One cup (155 grams) of cooked edamame has close to 17 grams of protein, while 1/2 cup (126 grams) of tofu provides close to 20 grams. Both foods are loaded with folate, vitamin K and several other micronutrients.
Additionally, eating tofu, edamame and other soy-based foods may help prevent heart disease and some cancers (22Trusted Source).
When choosing soy foods for your salad, look for whole soybeans and tofu without many additives. Keep in mind that most soy is genetically modified unless marked with an organic or GMO-free label.
19. Olives
Olives are a nutrient-rich and flavorful salad topping.
They're loaded with healthy fats — packing over 2 grams of monounsaturated fat in 1 ounce (28 grams). Research has linked monounsaturated fat consumption to a reduced risk of heart disease and lower cholesterol levels (23Trusted Source, 24Trusted Source).
Since olives are cured in brine, they can be high in salt. If you're watching your salt intake, look for varieties with reduced sodium.
20. Oil-and-Vinegar Dressings
A salad is not complete without a dressing.
In fact, one small study found that participants who ate salads with full-fat dressings absorbed more nutrients from the vegetables than those who used reduced-fat or non-fat dressings (25Trusted Source).
Since oils are a good source of fat, you can make your own full-fat salad dressing using oil and vinegar. Combine 2 tablespoons (30 ml) of healthy oils — such as olive oil or avocado oil — with 1 tablespoon (15 ml) of vinegar for a quick and tasty dressing.
Refine your mix with herbs and spices that suit your taste buds.
Bình luận
Stibiox
14/11/2022
Secretin is a hormone that controls the secretions into the duodenum, and also separately, water homeostasis throughout the body 36 hour cialis online
Derrick Kornweibel
26/10/2022
Do you happen to need help with your content or content marketing? Get 10,000 words created by AI for free when you try Jasper at this site jasperoffer.com Again >>>>>> jasperoffer.com free 10000 words to try it out You won't ever turn back after you hit the simple button. Stay Safe!!! Mike
lamsweews
16/04/2022
Jxmasj Breathing into the mouth and pressing the abdomen were advocated in the th century but not widely used. https://bestadalafil.com/ - Cialis Cialis Uyubjd Yytrho https://bestadalafil.com/ - Cialis Afwqxe
Test Sapo
20/06/2019
bài viết hay